Jolly Friends Sports Club Announces a packed schedule for 2023-24 on Their Annual Opening Night
Jolly Friends Sports Club (JFSC) has established a reputation for hosting an unforgettable opening night that sets the stage for the tournament, creating a buzz of excitement and anticipation. It serves as a rallying point for the teams, The thrill of competition, and the electric atmosphere that surrounds it, It delves into the importance of this event and why it should be on your calendar.
4 exclusive cricket tournaments featuring 84 teams, and these tournaments will be held at the top-quality ground of Jolly Friends Sport in Vidyavihar, Mumbai.
The opening night was held at the lord of Drinks, Worli and Shivanandan Konar the founder of JFSC, is highly appreciable for his efforts how he managed and supported everyone, and has contributed to the success of Jolly Friends Sports Club (JFSC). Recognition of his dedication and leadership is certainly well-deserved. With a reputable indoor facility for practice and high-quality ground and turf wickets, it's clear that JFSC has made significant progress over the years.
The night begin with a greeting to Captains who were present at the event on the stage, Shivanand Konar called upon the stage, Konar has announced the news, now they have extended their 5 more years for khalsa ground and tied up with Lal Chand Rajput, they are going to provide class all across the Mumbai.
after the ceremony, came the introduction of the 3 tournaments which would be taking place. The JFSC THE SUPER LEAGUE is in 3rd season now, the super league has 32 teams who will compete in 154 matches
The next tournament introduction was the DADS PREMIER LEAGUE. The 2022-23 3rd season will be the DPL where all 99 games will be played among 36 teams. The next tournament introduce was the DADS SUPER CUP. The 2022-23. Season will be the inaugural year of DSC where all 32 games will be played among 16 teams. The final tournament and arguably the biggest tournament of JFSC is the CORPORATE SUPER SERIES. The CSC will have 14 teams in 84 different teams, with a total number of 64 games across the different divisions. that's make most incredible private tournament in all of India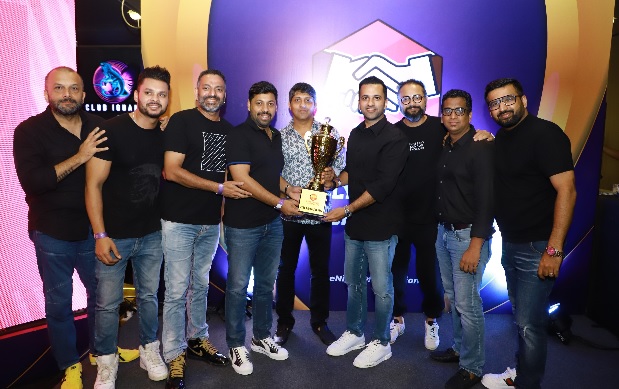 Certainly, after the announcement, the team representatives were invited onto the stage to unveil their jerseys and the tournament trophy. The captains presented the jerseys, and all the representatives were requested to join them on stage for a group photo.
All JFSC partners were acknowledged for their valuable contributions and were presented with trophies as a token of appreciation for their association with the establishment
With an attendance of more than 100, the successful event highlighted the high-voltage schedule of the JFSC. More than 1050+ matches and teams in the previous season 955 Matches Overall. The Jolly Friends Sports Club plans on exceeding its past achievements.